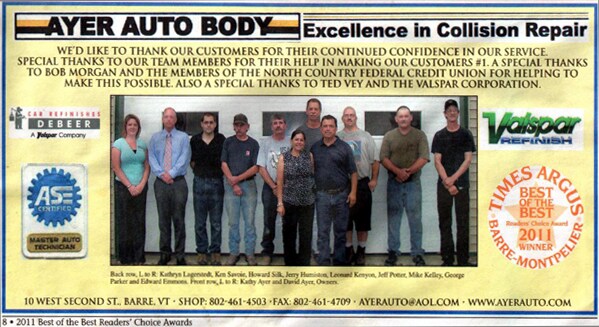 Automotive Collision Repair and Refinishing!
Our goal is absolute satisfaction through perfection. We take pride in our work, and back it up with a lifetime warranty!
Experience the Ayer Auto difference. Streamlined, easy, and hassle free. We take care of everything-from working with your insurance company, to arranging a rental car for you to drive while your vehicle is repaired by us. 
Our well-qualified associates are committed to making your collision repair experience as positive as possible. While it's not easy to turn an auto accident into a memorable service experience, our professional collision repair representatives are trained to do just that. We are here to help! You will find that our Auto Body technicians and staff are knowledgeable, friendly, and professional.
We're the only authorized Valspar® Car Refinish distributor in Vermont!
Ayer Auto employs highly qualified collision repair technicians to perform the complex structural, mechanical, body, and refinish work required to meet industry repair quality standards. We constantly invest heavily in the ongoing training and development of our collision repair technicians.
Our Services Include:
Free Estimates and Reasonable Prices

Auto Body, Paint and Mechanical Repair

Insurance Claim Assistance

Rental Assistance

i-Car trained Technicians

Aftermarket add-ons and Accessories

24/7 Flatbed Towing

24 Hour Rental for our collision customers

Airbag Diagnosis/Replacement 

PLUS MUCH MORE!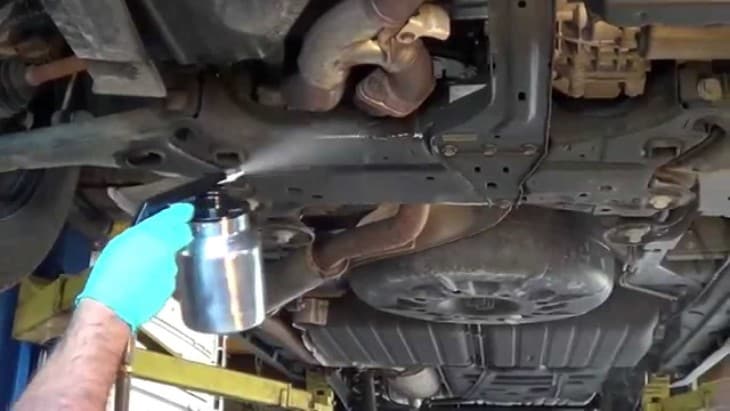 WE OFFER COMPLETE UNDERCOATING FOR ALL TYPES OF VEHICLES LARGE OR SMALL!
We use Noxudol
® 
which offers a professional, environmentally friendly, and reliable one-time application. It means a higher value and longer life for your car. Rated as one of the best undercoat products, with an 80-year history and globally-proven results. Contact us today to set up an appointment at our Collision Center! 
Ayer Auto has received recognition and many awards for our hard work and dedication to fair, satisfactory, and reasonable practices. Thank you to our valued loyal customers, fellow area small businesses, and members of our community for the ongoing support!